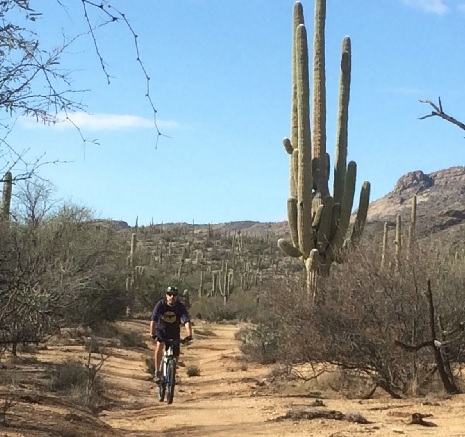 Riding in the Saguaros on the Arizona Trail
You know that cactus you'd see in cowboy cartoons when we were kids? You know, the ones with arms that were usually talking or slapping some dopey cowboy in the head? I pictured them as part humorous creature, part plant. That's what went into my kid brain, and it hadn't changed much since. That is until I saw the real McCoy's in Tucson AZ this past winter near Saguaro National Park, home to the Saguaro cactus. We'd heard Tucson is a great place for mountain biking, so we booked a week in December for some winter riding.
We left our place in New Mexico in the morning, drove all day and reached our cabin at midnight. I could see dark purple mountains against the backdrop of brilliant stars in an inky sky. Beautiful. I wasn't sure what to expect for riding terrain.
It was brisk but sunny in the morning. I peeked outside to get a sense of what we were in for on the trails. Here's the view from our cabin – cactus everywhere, in all shapes and sizes.
In a few short hours the sun was high and the weather was perfect. We grabbed a cup of coffee, pulled on our windbreakers and hit the Arizona Bike Trail – an 800-mile recreation trail that runs from Mexico right up to Utah by way of Tucson.
We started out on a wide, pretty easy trail that eventually got windier and hillier the further we rode. Fun riding! The cactus looked like I expected they would until we got right up to them.
Can you say huge? That little yellow spot in the middle is me after I couldn't help myself – I hopped off my bike and climbed down into the cactus forest.
This one was such a beauty I had to stop for yet another picture. These Saguaros aren't really a cactus; they're a cactus tree. Those holes in the cactus above my head? They're bird houses.
I couldn't stop gawking. I wanted to stop and touch everything I saw, but time flew by and we had to turn around to be off the trail before dark. We cut it awfully close, but we reached the trailhead parking lot as the last of the sun dropped behind the mountains. The Saguaros stood like silent sentries silhouetted in black.
It's good to be reminded, every day, that nature is much more powerful than we are. This place certainly brings it home.