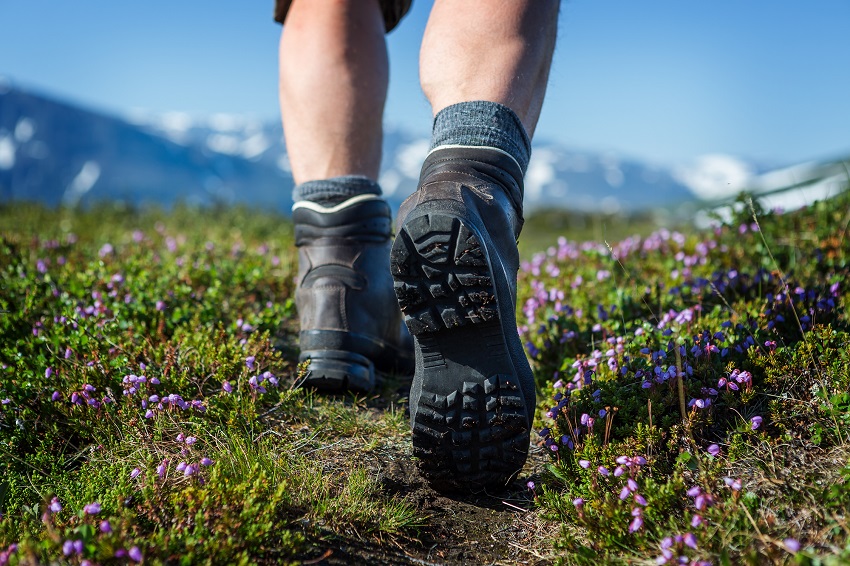 What's the Best Hiking Boot?
A Girl Can Never Have Too Many Pairs of Hiking Boots ~
I admit it – I'm a sucker for outdoor technical gear. I especially love hiking boots. Right now I have three pair, all for different kinds of terrain, and I'm pretty sure it's not quite enough. I choose them for different climates, different trails, and sometimes just because they're so cool looking. And they wear out, so it's good to keep an eye out for a backup pair.
Here are the styles I'm wearing right now.
Mountain Trail Boots
I bought my first pair, the Stynger GTX Hiking Boots, when we moved out west, and I still love them. The trouble
is, the tread on them wore down really fast due to the wear and tear of hiking loose, rocky trails. Although the soles had worn flat, the boots themselves were still in great shape and they were pretty spendy, so I decided to have them resoled at Rocky Mountain Resole for about $70.00. It's worth a try, but take note:
I called before I sent them in, and the clerk was careful to point out that they put on one kind of Vibram sole, period. They couldn't gurantee that the sole would match what I had. I decided to try it anyway. When I got them back, I had a nice pair of resoled boots, but they were heavier and the way the soles were mounted made the toe box tighter.
They're still good boots, just a little different now. I wear them on what I'd call regular mountain trails that include a mix of sand and loose rock.
Scrambling Boots
I met a group of hikers who like canyoneering and scrambling – hiking on rough trails and climbing on rock outcrops and large boulders. Some of these guys prefer lightweight hiking shoes, but  I found the soles to be too thin to protect my feet from fatigue and too low
to prevent my ankles from rolling when I was on uneven terrain. I started investigating heavy duty hikers with thicker lugged soles made out of harder rubber.
After trying on all the boots I could find, I chose Garmont Dakota Hikers. They're a heavy duty boot with thick lugged soles that grab the rocks. I like them because they prevent me from rolling my ankles when we're climbing up steep rock slopes and weaving through rocky washes. The soles have held up very well, too, despite putting many miles on them. These boots also keep my feet warm on winter hikes.
It may be tough to find these exact books, but there are other equivalent boots out there that would work just as well, as long as you look at the features I noted above. You can find them on REI.com, Amazon.com or at Sierra Trading Post.
Desert Trail Boots
A year or so ago, we moved down from the mountains and into Las Cruces, where the trails are much sandier.
I was training for a desert marathon and was into the fourth training week when I realized my boots described above were too hot and heavy for the terrain where the marathon would take place. In fact, I think they were contributing to fatigue rather than helping me finish on training days with long hikes.
After some serious research and more boot fittings, I discovered the Vasque Breeze III GTX Boot – Women's Gargoyle / Stone Blue 8.5
. These boots are lightweight hikers (2.9 pounds) with Gortex, leather and mesh uppers, good tread and actual toe and heel ventilation ports to help keep your feet cool.
They are so comfortable that they required no break in period. I hit the trails with them after walking around the house in them for a few days. They're lightweight, made to breathe and have added air vents in the black area on the toe box and the heel, too. I had no problems with new blisters or hot spots on hikes up to 15 or so miles, although I did encounter a few on 20 mile training days. To avoid further problems, I began taping up the hot spots with Leuko tape before every hike and that worked out well. I finished the marathon in them, on a 90 degree day, with no blisters.
The bottom line? Boots, to me, are about comfort, whether I'm on a short or long walk. I want to know that if I decided on the fly to go 12 miles instead of 5, my feet will be able to take it, and if I see a really juicy trail for scrambling, they'll be protected. There are other factors to consider, such as wearing the right socks.
Socks. How to choose them? Now that's a post in and of itself.