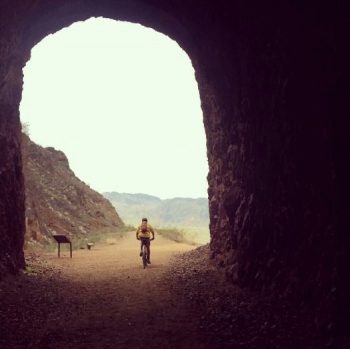 Escape From Winter: Mountain Biking in Las Vegas
Mountain Biking in Las Vegas Beats Casinos Any Day
Who ever thought Las Vegas, top destination for gamblers and glitz, would have some of the finest mountain biking in the country? When frigid winter weather descended on us in January, we decided to head out to warmer, sunnier, no-snow climates. Boulder City, just outside Las Vegas, was supposed to have great winters and great riding so we decided to check it out.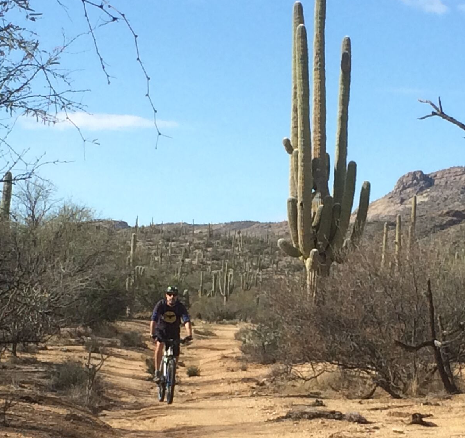 Our first stop was Tucson, where we got in an awesome 25-mile ride in and out of giant Saguaro cactus on the Arizona Trail. I'd first ridden this trail a year ago on a much bigger, heavier bike and was a little wobbly in some spots, but this time I had a year of single track riding under my belt and a new super-light, full-suspension mountain bike. What a difference! I was having so much fun on the trail that I lost my Fitbit and didn't even cry.
After that superb Sunday Tucson ride, it rained. Every. Single. Day. For the entire week we had the house. So we were more than ready for Boulder City. Nestled right up to the Hoover Dam, this historic town was built by the government for the dam workers back in the 1920s and 30s. It's only 20 minutes south of Las Vegas but has a completely different vibe than the Strip. This is a little town with a vintage feel and some pretty good people watching. When you pull on to the main street, you find no high rises or casinos, but an eclectic collection of 60s looking motels, saloons and even an A&W root beer stand.
You'll also find a choice of shops with mountain bikes for rent or purchase. Not your usual small-town Schwinn bike shops here. In one shop, prices for bikes started at $2500, my first clue that we were in some serious mountain biking country.
Our friend, who is an expert cyclist and athlete, decided to join us for a few days so we went to the bike shop to rent a ride for her. This was no five-minute transaction. After she picked out her bike, the mechanic, who had a heavy five o'clock shadow, a John Deere hat flipped backwards, horn-rimmed glasses and long hair as pretty as Angelina Jolie's, put it up the bike stand and asked her no less than 50 questions as he adjusted it for her. Who knew there were so many ways to fit a bike.
We told him we were riding the River Mountains Loop Trail. While he made adjustments, the mechanic, an enthusiastic rider himself, shared his advice about the trail. "There are serious climbs but if you ride it clockwise, you'll hit the steepest of the hills on the downslope and save yourselves for a more gradual uphill climbed on the second half of the loop," he said. "Also, don't expect Dairy Queens or snack bars along the way. There is a bait/bike rental shop at mile marker 10 that has some snacks and water, but that's it. Carry a lot of water."
When we told him we were riding the entire loop on our mountain bikes the next day, he looked at us like we had two heads. "Seriously?" he said. Clearly he thought we were too old or a little nutty, or both. When we asked how long it would take, he said, "It takes me about 2.5 hours on my road bike, but I don't know about taking those mountain bikes. Are you sure you don't want to rent road bikes?" Nahhh.
Next day, we hit the trail, a 34-mile loop that takes you along the edge of the city suburbs, Lake Las Vegas, the Lake Mead Recreation area and over to the Hoover Dam. We were a bit cold as we started out but there was too much to see to dwell on that. We just kept pedaling.
I've used words like beautiful, gnarly, fun, rugged, good workout to describe trails before, but this one is, in a word, marvelous. For one thing, it's paved the entire way. After months of rugged single track at home, this was like riding on velvet, for 34 delicious miles. Also, the views are breathtaking. Once we got past Las Vegas there were no other riders. We had the entire Lake Mead Recreation Area to ourselves.
It took us four hours to finish the loop and the mechanic pegged it just right. We did hit some gradual hill climbs for about 15 miles, but it was doable, and it would have been much harder if we'd gone counter-clockwise. We were tired, but a good tired. I'm pretty sure my friend, athlete that she is, could have rocked that trail, mountain bike and all, faster than the mechanic on his road bike, but we were there for the beauty, not the race.
We ended the day with cold beers, candy bars and frozen pizza, which tasted fabulous after the long ride and cool temperatures. All in all, it was a far more spectacular experience than anything the Strip has to offer.