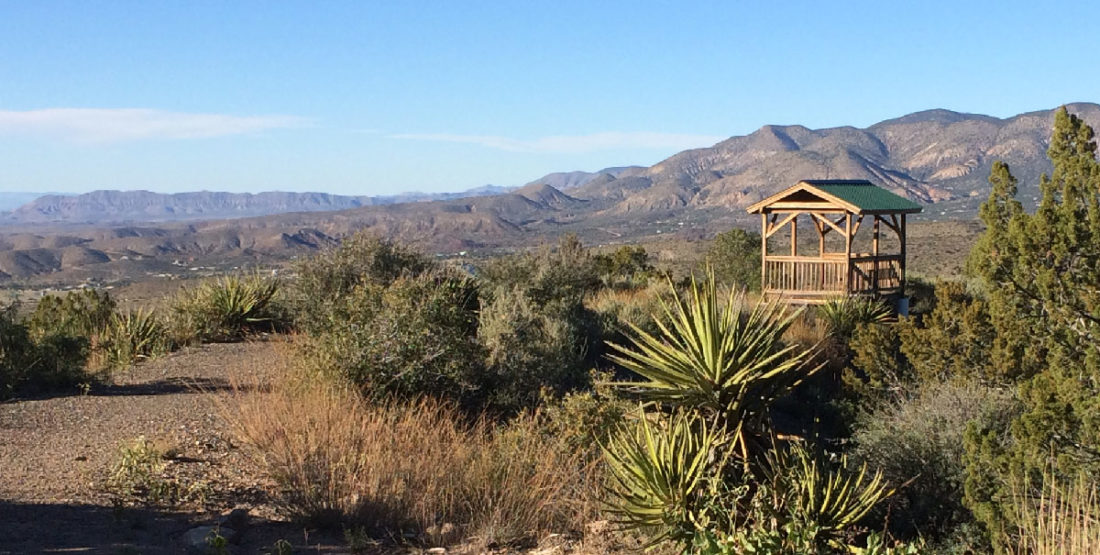 Grandview Trail is a Don't Miss Hike
Grandview Trail in High Rolls, NM is a Hidden Gem of a Hike
If you're passing through southern New Mexico and looking for an accessible hike
that takes you right into the mountains, don't miss the Grandview Trail, located between Alamogordo and Cloudcroft, NM. I discovered the Grandview when we moved to the town of High Rolls and it quickly became a regular route in my list of great hikes.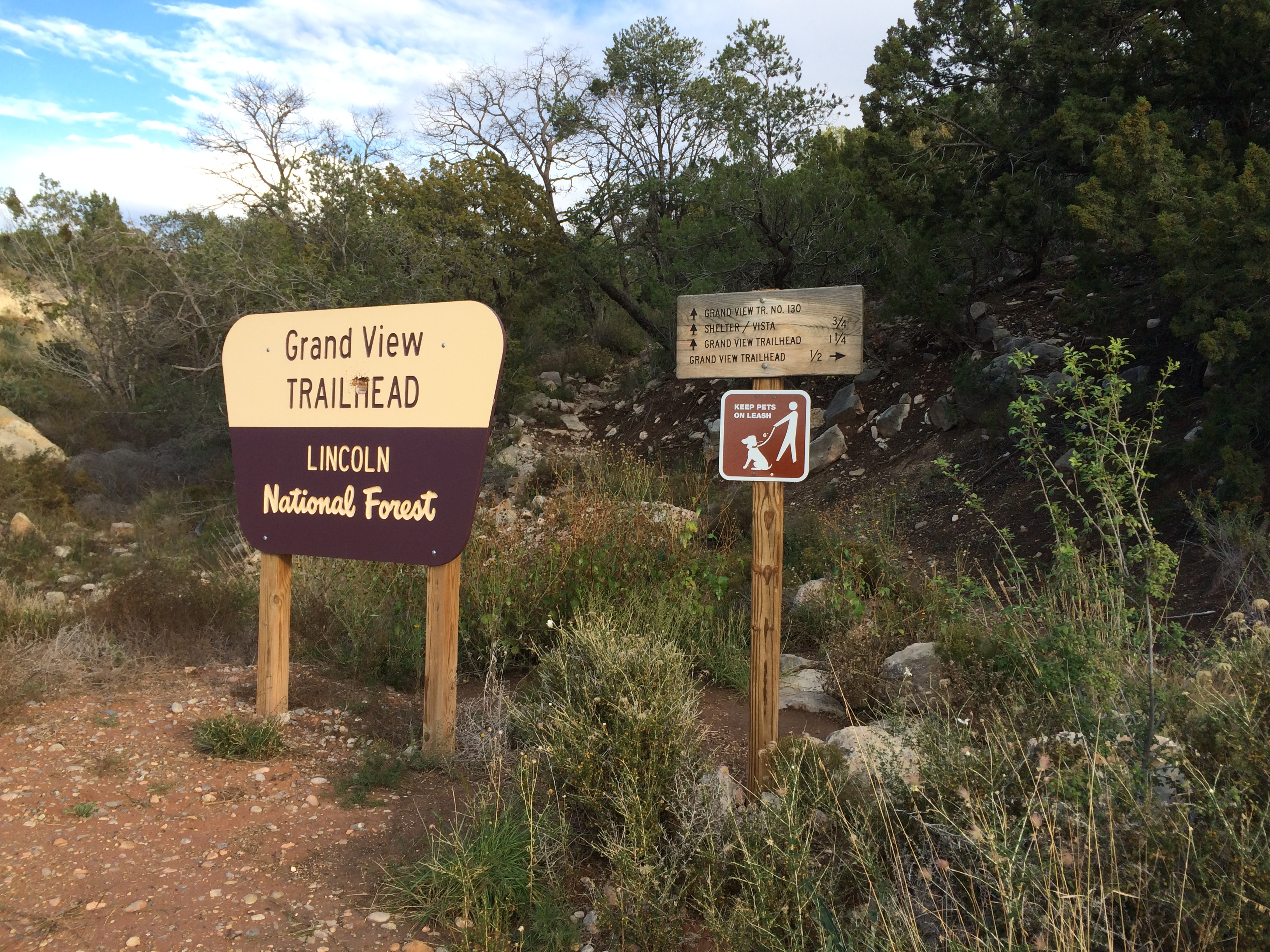 The Grandview Trail is one of a handful of trails reclaimed from old railroad tracks by the New Mexico Rails to Trails group. This is an out and back trail built on an old railroad bed roughly 1.5 miles each way. There are two entrance points. The trailhead closest to the town of High Rolls, pictured above, takes you up a short, rocky incline and onto the railroad t
rail. If you continue down the road, you'll see another trailhead that lets you get started on a more gradually inclined trail.
Bikes are not allowed on the Grandview Trail – it's designated for walking and/or running, with or without your (leashed) pet. It's also relatively short and well-groomed so it's a good trail for children. Once you climb up and onto the trail, you'll see beautiful views of the Sacramento mountains and White Sands National Monument. Interpretive signs posted along the way give you a sense of the wildlife and the geology of the area.
Animal tracks, scat and bones are abundant on the trail. I've seen tracks for elk, coyote, mountain lion, ringtailed cats and desert hare. Rattlesnakes live here too, so it's important to watch where you walk at all times and especially in the warmer months. On a few occasions, I've seen elk grazing along the trail when hiking in early morning or at dusk. It's also not unusual to hear a stream of birdsong and coyote song, depending on the time of day, and in the spring and summer months, the trail is also full of blooms.
To get to the trail, take Highway 82 out of Alamogordo towards Cloudcroft, NM. From US82, turn north onto FR162C, near both the convenience store and the US Post Office in High Rolls. From there continue north and west on the same road. The first sign for the Grandview trail will show up on your left, clearly marked.
Here's a good bird's eye view of the trail, although it's much more beautiful than the photo suggests: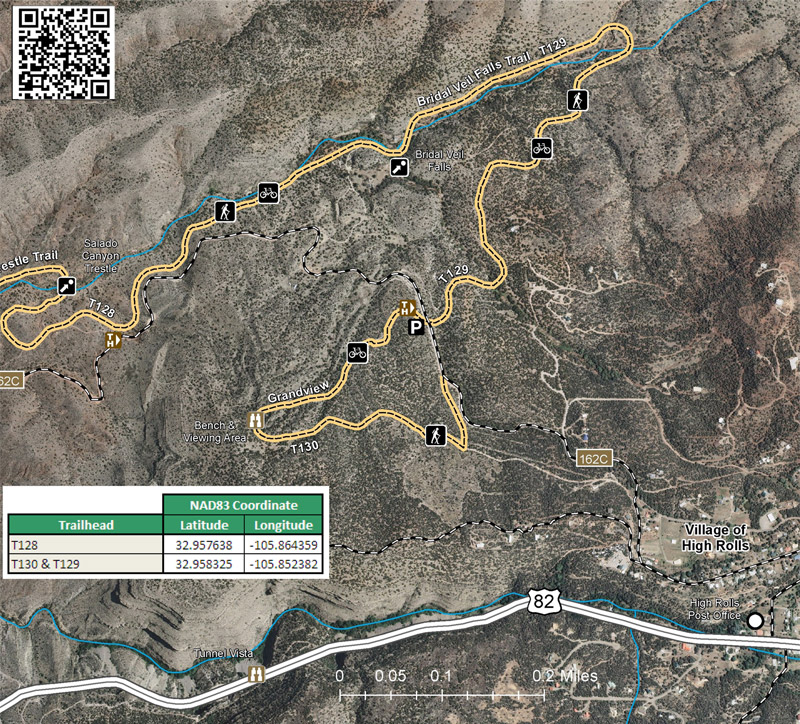 The Grandview Trail is interconnected with two other interesting trails – the Bridal Veil Falls Trail and Salado Canyon Trail. You can find a helpful map here.
I've strung all three of these trails together when I'm looking for an all day hike. Keep in mind, these are pretty primitive trails – no water, no restrooms, no refreshments. The weather can get to be pretty hot in the summer months. Carry plenty of water, regardless of the time of year, and pack appropriate supplies if you're planning a longer hike.
I heartily recommend exploring all three of these trails.